<! FIRST COLUMN>
"Official Notice of Dispute" Filed with New Hampshire Attorney General on Four Presidential Candidates' Eligibility
---
"DOES THE BELL TOLL FOR THE FED?"
---
Sate Troopers beat man in "diabetic shock"

"Stop resisting, motherfucker."
---
Pa. university installs "morning-after" machine...
---
Texas begins enforcing law requiring pre-abortion sonogra...
---
S.C. sues feds over blocked voter ID law...
South Carolina responds in court on voter ID law...
---
Appeals court rejects California's Proposition 8...
---
U.S. court to rule Tuesday on California gay marriage
New Jersey gay marriage votes set for later in February...
---
FBI: Ex-soldier tried to aid terrorists...
---
Suspect in Police Shooting Says He Feared for Life...
---
9-year-old suspended after 'groin grab' at Catholic school fundraiser...
---
Human smuggling ring used non-Spanish speaking black drivers...
---
FDA's New Claim: "Your Body Is a Drug—and We Have the Authority to Regulate It!"...
---
FBI Uses Chainsaw In Raid On Wrong Apartment...
---
US budget deficit to dip to $1.1T...
---
Critics of capitalism call global protest in June...
---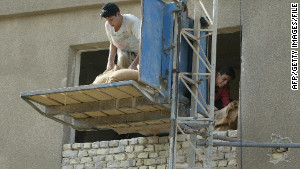 U.S. Defense Department can't account for billions for Iraq, audit finds...
---
Illinois facing "financial disaster"...
---
<! L I N K S F I R S T C O L U M N> <! COUNTER> Page Views:

Website Counter <! SECOND COLUMN>
Supreme Court takes up major challenge to abortion restrictions

---
Virginia Parents Charged With Misdemeanor Because of Childrens' Excessive Tardiness at School...
---
Marines storm U.S. beaches in training exercise...
---
Obama: US in 'lockstep' with Israel on Iran nukes...
---
Mayor Bloomberg and LiveStrong Latest to Fund Abortion...
---
Oklahoma governor plans to cut state income taxes...
---
Virginia Senate votes to repeal limit on gun purchases...
---
Judge upholds controversial Texas abortion law...
---
Feds in New York Shut Down 16 Sports Streaming Websites...
---
Bigger U.S. role against companies' cyberthreats?...
---
Virginia lawmakers pass abortion, adoption bills...
---
Senior Indiana official convicted of perjury, fraud...
---
Pot legalization efforts forge ahead in key states...
---
$5 Trillion and Change

Obama's four years have seen the four highest deficits since 1946....
---
Obama Tries to Bypass Congress with Deadly Global Internet Treaty ACTA...
---
DOJ to SCOTUS: Don't overturn entire law...
---
Obama Administration "Rigging" US Census By Counting Illegal Aliens...
---
Emboldened GOP wants to abolish state income taxes...
---
Tourists banned from U.S. over Twitter jokes?...
---
Bill to Prohibit Insider Trading by Members of Congress Advances in Senate...
---
<! L I N K S M I D D L E C O L U M N> Great Depression Deux
The Charters of Freedom
Campaign For Liberty
Liberty Maven
Lew Rockwell
Jerry Doyle
Restore the Republic
We the People Foundation
Ron Paul Forums
Retake Congress
Prison Planet
Oath Keepers
The Humble Libertarian
Judge Andrew Napolitano
Politics Daily
Constitution Preservation
Free State Project
The Liberty Papers
Ludwig von Mises Institute
Foundation for Economic Education
Freeople
Secrecy News
Katie Kieffer
American Free Press
Politico
The New American
The American Thinker
Sweet Libertea Blog
The Cook Political Report
Infidels Are Cool
Audit The Fed
Freedom Watch on FOX
<! THIRD COLUMN>
Patricia A. Cook Dies In Culpeper Police Officer Involved Shooting In VA...
---
LA County OKs $1,000 Fine For Throwing Football, Frisbee On Beaches...
---
Radical U.S. Muslims Little Threat, Study Says...
---
G.O.P. Lawmakers Sign Vow of Silence...
---
U.S. Planning to Slash Iraq Embassy Staff by Half...
---
Woman says innocent trip to Ala. spirals into meth charge
---
U.S. ocean fence aims to curb smuggling from Mexico...
---
Court says woman with limited English can be kept off ballot...
---
Group wants investigation of Obama, Romney Super PACs...
---
Suspect kills officer, steals police car before he is fatally shot...
---
Montana airport gets rare TSA concession: Private screeners...
---
DEA moves against two Florida pharmacies, distributor over pill sales...
---
Public surveillance from private property questioned...
---
Stun gun used on woman who blocked NC drive-thru...
---
TSA agents reportedly wait 6 hours before alerting cops about potential bomb...
---
Park ranger uses stun gun on man walking dogs off-leash in California...
---
Obama Ignores Challenge to His Presidential Eligibility in Georgia...
---
Fed Members Laughed As Housing Bubble Grew...
---
Arizona City council hopeful: 'My English is good enough'...
---
Colorado Lawsuit Challenges Wisdom of Ballot Box...
---
<! Freedom Index>
---
<! Google Search>
---
Send newstips to Freedom Report!

[ANONYMITY GUARANTEED]

---
EMAIL: ADMIN@FREEDOMREPORT.COM

Tell a Friend
---
<! Google Analytics>